Android Device Manager Via Remote Security:- 
The Google Play Services framework is used to manage all sorts of back-end services, and Google updates it frequently in the background. Most of the functionality packed away in this framework is of little user-facing consequence, but there's a lot including account sync, malware scanning, and the Android Device Manager. This feature allows you track, ring, lock, and wipe your device if you lose track of it.
By default, you can only ring and locate a device with Android Device Manager, so if you want the full gamut of features, go into your main system settings and scroll down to Security. Find the Device Administrators option, and open it to see what apps have been granted admin privileges on your phone or tablet. Checking the box next to Android Device Manager allows you to wipe and lock the device in addition to the ring and locate features.
Android Device Manager Via Remote Security
How to Activate Android Device Manager
What Android Device Manager can do?
Android Device Manager makes it easy to locate, ring, or wipe your device from the web.
1. Locate Android devices associated with your Google account.
2. Reset your device's screen lock PIN.
3. Erase all data on the phone.
But before you make full use of Android Device Manager, you should have Android Device Manager on your Android phone, and sign in Android Device Manager with Google account to activate it with administrator privileges.
Steps to Activate or Turn on Android Device Manager
Step 1: Sign in Android Device Manager with Google account.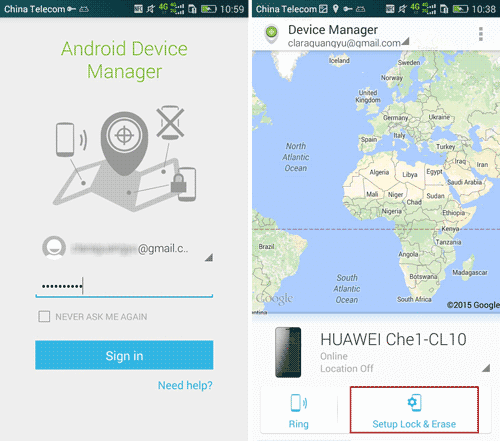 Step 2: Click Setup Lock & Erase on Device Manager window.
Step 3: In Security window, under Android Device Manager, check Remotely locate this device.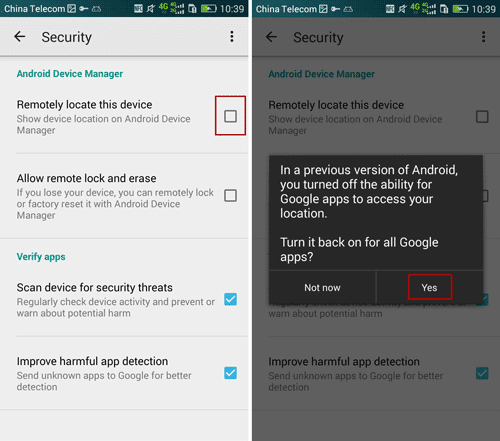 When there is a dialog pops up asking you if you want to turn on the ability for Google apps to access your location, click "Not now" or "Yes" button if you want to turn back on for all Google apps.
Step 4: Check Allow remote lock and erase. Once you enable it, if you lose your device, you can remotely lock or factory reset it with Android Device Manager.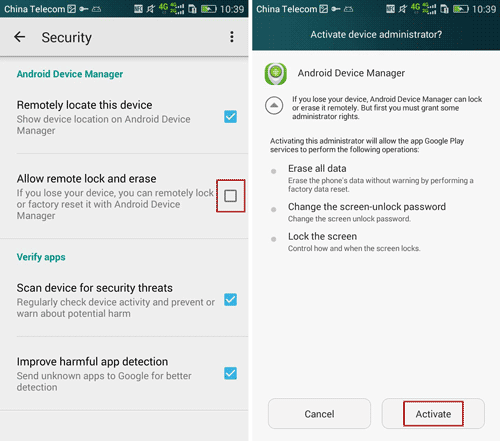 Step 5: Click Activate button on following Activate device administrator window. Once you activate this administrator, or grant administrator rights to Google Play, it will allow the app Google Play services to perform operations listed out.
5-1 Erase the phone's data without warning by performing a factory data reset.
5-2 Change the screen-unlock password.
5-3 Control how and when the screen locks.
Then you would turn back to Security window where you can turn on Android Device Manager.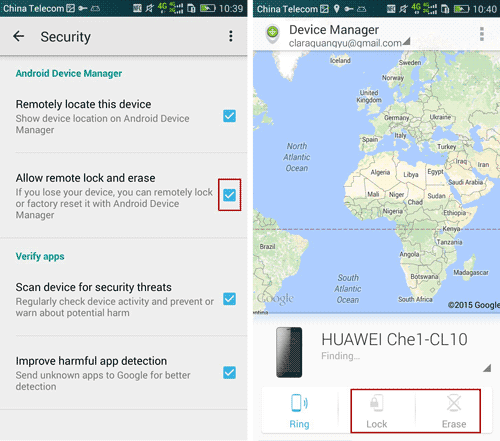 And now you can see other two options, Lock and Erase have appeared under your Android phone in Device Manager window. If you want to lock your Android phone remotely or erase the phone's data, just after successfully locating your Android phone with Android Device Manager, click "Lock" or "Erase" button and follow wizards to do.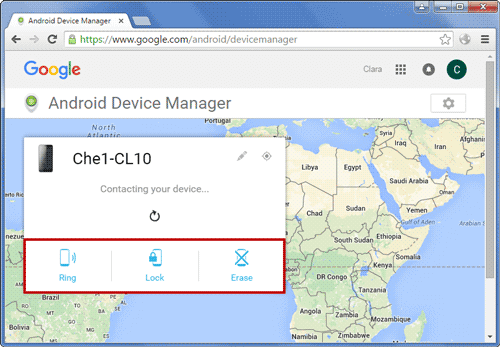 Tips: Android Device Manager Via Remote Security provides the same services for Android phone like "Find My Phone" for iPhone. But sometimes you would find it cannot locate the detailed location of your Android phone remotely. Besides, if your lost android device is powered off, Android Device Manager would not find your device. We just only make it enable and take one more choice to find lost Android device.