Change Folder Icon:-
If you are like any computer user, then you have plenty of folders where you keep Word documents, spreadsheets, pictures, music and an endless list of other things. Sometimes the folders are so many that they may literally cripple your productivity and you may be in a devil of a time trying to find the folder with the document you need at the moment. Plus, with so many similar-looking yellow folders it is easy to make a mistake and carelessly delete an important folder. The chaos too many folders can create can be staggering!
Of course, Microsoft has thought about the way to tackle the too-many-same-looking-folders problem by allowing users to change the icon of a folder with a new one that will make the folder visually stand out of the crowd. But the way users can do this is needlessly complicated as users have to go down a long 'click-and-open road' through Windows dialogs before they can actually change the icon folder. Take a look at the following:
Change Folder Icon
Step:1) Open the network to any browser.
Step:2) Download i Color folder to this link.
Step:3) Now Install Or Download One More SOftware From this Link.
Step:4) Both the software are Install then right click on folder and select your desire color.

One More Trick 
How to change folder icons in the Folder Marker's way
Select an icon from the right-click menu of a folder.
That's it! Only one step to change a folder icon! Isn't that cool or what? Using Folder Marker couldn't be simpler. The application's designers wanted to make the ability to change a folder icon or a folder coloras painless as possible and they've done an outstanding job. With Folder Marker, you'll mark out folders with the same simplicity as you would copy or cut a folder by selecting this option from the right-click menu of the folder.
Now there is no need to make a 'round-the-world journey' through multiple dialogs. There is even no need to run Folder Marker itself! Simply select the folder you want to mark out, select a new icon from the right-click menu and it'll be assigned instantly. You can change icons not only for one folder, but also for several folders all together with the same one-click approach. Just select the folders with the mouse and choose an icon from the right-click menu.
Folder Marker offers a great choice of image-coded and color-coded folder icons that can be used tocategorize folders by different parameters. For example, you can mark out folders by:
priority (high, normal, low)
project completeness level (done, half-done, planned)
stage of development (one, two, three, four, etc.)
type of information stored in them (work, important, temp and private files)
status (approved/rejected/pending)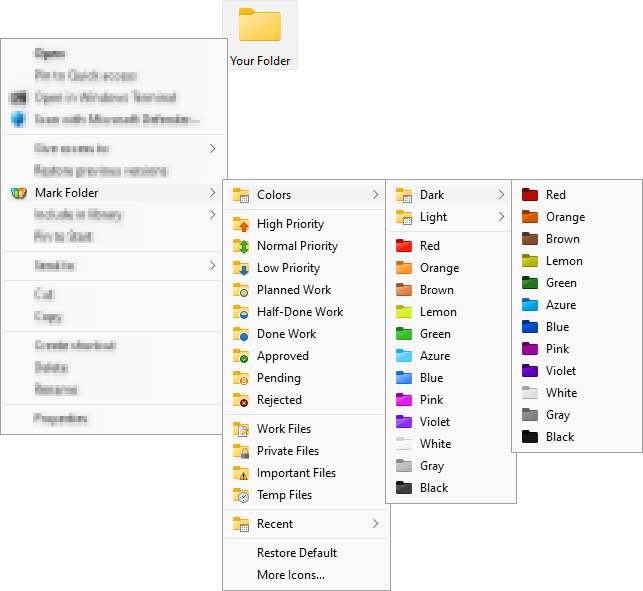 Change Folder Icon.